Certification and proficiency exams on based upon business skills and skill development, based upon current needs.
Proficiency exams materials such has textbooks, teaching materials and other items.
Our "Main market" is institutions of higher learning including universities and vocational school, as well as individuals and companies.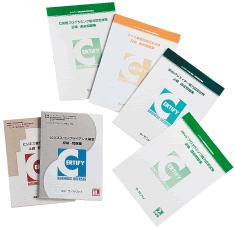 In today's rapidly changing globalized society, Japan's system of lifelong seniority based employment is coming to an end.
The system is evolving into one which one's salary will be based upon performance and abilities; these will be measured by certification and performance examinations, for both employees and job seekers.
"Certify" provides the services necessary to enable businesses and society to measure a person's abilities and skills in a quantifiable manner to match individuals to their optimum position.
These examinations are also suitable to help identify past and current problems as well and improve skills over broad spectrum.
Development of these capabilities is needed in many areas of qualifications. Commissions consisting of people active in the fields are necessary to be assured of "Objectivity" and "Fairness" which are necessary to keep the trust in a certification system.